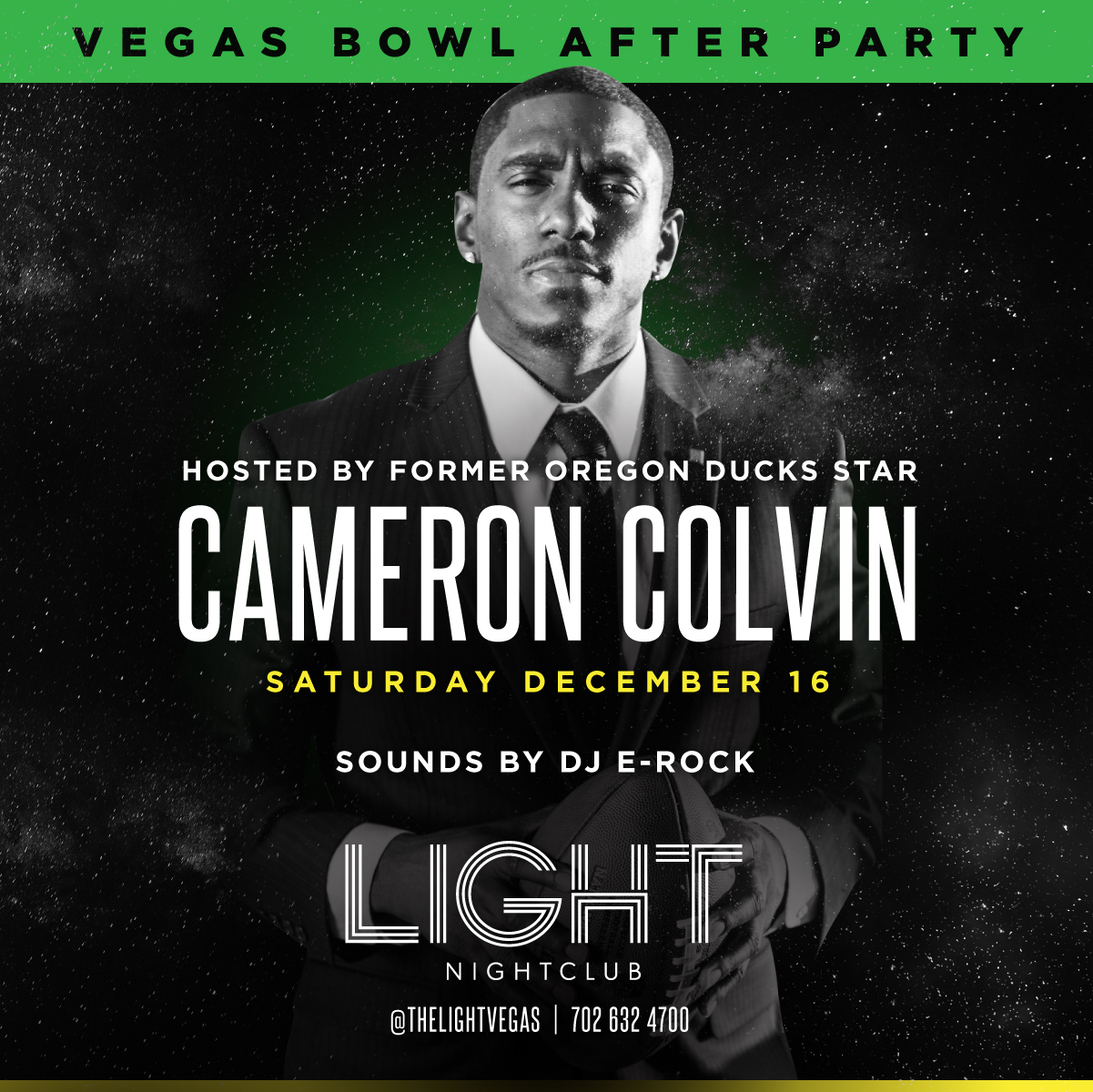 Cameron Colvin host Las Vegas bash for his alma mater The University of Oregon
December 16th 20
Collaborating with Play Management and The Light Night Club in Las Vegas Nevada, Cameron Colvin surly knows how to throw a Bash! If you have not had the opportunity to party with Cam, keep an eye on his events list to come!
Chairman Speaks at Walter Cronkite School of Journalism and Mass Communication
November 16th 2017
Such an honor to speak on the discussion panel of Entrepreneurship and Innovation at Arizona State University. Such a great time amongst a brilliant group of students with extremely promising futures within their prospective careers. Special Thanks to Denise Meridith and the W.P Carey Staff for the amazing opportunity.
NFL PLAYER TURNED CEO--ENTREPRENEUR TAKES HELM AT SPORTS NON-PROFIT
OCTOBER 20, 2017--MIKE SUNNUCKS
Cameron Colvin — a former receiver for the San Francisco 49ers and University of Oregon — has been named president of Linking Sports & Communities. The Phoenix-based nonprofit was founded by prominent Phoenix businesswoman Denise Meridith and looks to encourage kids and better connect them to their communities via sports. Colvin said he's known Meridith — who was a founder of the Greater Phoenix Black Chamber of Commerce and long-time executive with the U.S. Bureau of Land Management (BLM) — for years. Meridith is remaining as chair of Linking Sports & Communities through the end of the year. READ MORE
LSC GOES NATIONWIDE
MAY 10, 2017-- DENISE MERIDITH
In February 2017, Cameron Colvin, former NFL player and current successful business developer, became the new CEO of LSC. Under his leadership, LSC will be expanding its scope from statewide to nationwide. "I am excited about this opportunity to take Denise's legacy of helping today's student athletes become tomorrow's community leaders to new heights," said Colvin. "With the help of new Executive Director Eric Goss and a talented Board of Directors, we will create new programs to help students prepare for careers, expand our athletic clinics, and develop new training in subjects like sports broadcasting or photography, as well as reach out to new areas of the country." READ MORE
VILLAGO MIDDLE SCHOOL: A VISIT TO CASA GRANDE
MARCH 3RD, 2017-- VILLAGO MIDDLE SCHOOL NEWS / ARCHIVED NEWS
Shortly after the release of Sony's Film "When The Game Stands Tall" real Life featured Cameron Colvin Stopped by Villago Middle School of Casa Grande, Arizona--to lend a few words of inspiration and encouragement to students. Special Thanks to the Staff and Administration of Villago Middle School!!
FROM OREGON TO OWNING HIS OWN BUSINESS: CAMERON COLVIN CONTINUES TO STAND TALL
FEBRUARY 06, 2015-- CHUCK COX
Cameron Colvin knows plenty about standing tall. Before his 19th birthday, Colvin lost both of his parents and his best friend, Terrance Kelly, who was murdered two days before he was set to head to the University of Oregon with Colvin to play football for the Ducks. "As you get older, you see those things were there to prepare you for life," Colvin said. "I was really fortunate to have a strong foundation of family growing up. And even though a career in professional football wasn't in the cards for Colvin, his perseverance, toughness and unyielding optimism have helped him become a successful entrepreneur. He started a marketing and advertising firm called CamColvin, Inc., in 2009. Three years ago, he added a subsidiary, Rise Above Enterprises, which focuses on real estate development and funding ventures for other businesses. READ MORE
THE COACH BEHIND THE LONGEST WINNING STREAK IN SPORTS HISTORY SHOWS HOW TO BUILD A CHAMPION BUSINESS TEAM
AUGUST 19, 2014-- CARMINE GALLO
The story of Coach Lad and the Concord, California, De La Salle Spartans is one of the greatest leadership stories ever told because it gets to the heart of building a winning team in sports and in business. Here are three valuable team-building lessons based on the longest winning streak in sports history.
Former Spartan Cam Colvin had lost both of his parents by his junior season. He went on to play for The University of Oregon and the 49ers before being sidelined with injuries. Today he's a successful real estate developer who recalls the impact of commitment cards. "It was an amazing bonding opportunity. For example, I'd commit to you that I would catch 100 balls after practice, 5 game-day catches, 2 touchdowns, and no missed blocks. It was our way of setting goals for the week and to getting them done. It made us closer. We policed ourselves." READ FULL ARTICLE
FORMER DE LA SALLE STAR CAMERON COLVIN PLEASED THAT MOVIE IS TELLING HIS STORY
AUGUST 15, 2014--BAY AREA NEWS GROUP
A key player in the final victories of the Spartans' national-record 151-game winning streak, Colvin's story of losing the people closest to him and how the football team helped him cope will be shared in the upcoming film "When the Game Stands Tall." He'll be portrayed by actor Ser'Darius Blain.
Colvin lost his mother as a high school sophomore. His father passed away when he was a 6-year-old growing up in Pittsburg. Then his best friend, teammate Terrance Kelly, was shot and killed just days before the pair was set to leave for college at Oregon. READ MORE
A TALE OF PERSEVERANCE TO INSPIRE OTHERS
AUGUST 11, 2014-- STEPHANIE HAMMON
Cameron Colvin isn't nervous about moviegoers learning tragic details of his personal life. The former De La Salle football star just wants his tale of perseverance to inspire others.
"Those experiences have always been my motivation to succeed and live my life the right way," said Colvin, who is now based out of Scottsdale, Arizona.
While nearly all of the De La Salle football players in the movie are fictional composites based on the types of athletes the program has produced over the years, Colvin's true story fit in perfectly with the message of the film.And Colvin's challenges and triumphs went beyond the time frame of the film. READ MORE
COLVIN IS FULL STEAM AHEAD
SEPTEMBER 10, 2011-- DON SMALLEY
No one said the track to the NFL was an easy one. Cameron Colvin has been on that track and it has been full of twists and turns. But the 2007 Oregon graduate hasn't given up on his dream, and maybe it's proper he currently plays for the Las Vegas Locomotives of the United Football League. Colvin has been dealing with twists and turns all his life. He didn't have the "normal" childhood. Far from it. Colvin's father passed away of pneumonia and a heart attack at the age of 39 when Colvin was just six year old. If that wasn't enough, his mom died of congestive heart failure when Colvin was just 15 years old, leaving he and his sister to live with their godmother.
"I think dealing with all of that made me strong," Colvin said. "My mother taught me a lot in those 15 years. It made me understand life and how to deal with adversity." All the while, Colvin was making a name for himself as a wide receiver at De La Salle High School in Concord, Calif. READ MORE
PITTSBURG NATIVE SON BRINGS TURKEYS, ENJOYMENT TO BOYS & GIRLS CLUB FAMILIES
NOVEMBER 22, 2013-- BAY AREA NEWS GROUP
Clutching the bumblebee and owl stuffed toys she just won at a raffle, Breanna Pool couldn't decide which activity she was enjoying the most.
The Los Medanos Elementary School fifth-grader was floating around, taking in all the activities set up for kids Thursday afternoon at the East County Boys & Girls Club during a turkey giveaway event hosted by former pro football player and Pittsburg native Cameron Colvin.
The families of the 60 children in the affordable day-care program all received turkeys during the Rise Above Turkey Giveaway, while the children participated in competitions and received goody bags and prizes. READ MORE
OREGON'S COLVIN PURSUES NFL DREAM DESPITE TRAGEDIES
APRIL 22, 2008-- JEFFRI CHADIHA
Cameron Colvin felt and heard the gruesome crack in his right ankle in October 2007 and immediately knew his college career had ended.
He didn't need to see Oregon head coach Mike Bellotti wincing. He didn't need to hear the gasp of the Autzen Stadium crowd. Colvin knows pain too well. He lost both parents before he was old enough to drive. His best friend was murdered before they entered college. He and misfortune need no introduction.
So Colvin choked back tears as a team doctor inspected his broken ankle on the Ducks' sideline during that 53-7 win over Washington State. He peered into the stands once more to find his family before a cart rolled him into the empty Oregon locker room. And when his teammates returned following the game, they hovered around him without saying a word. READ MORE